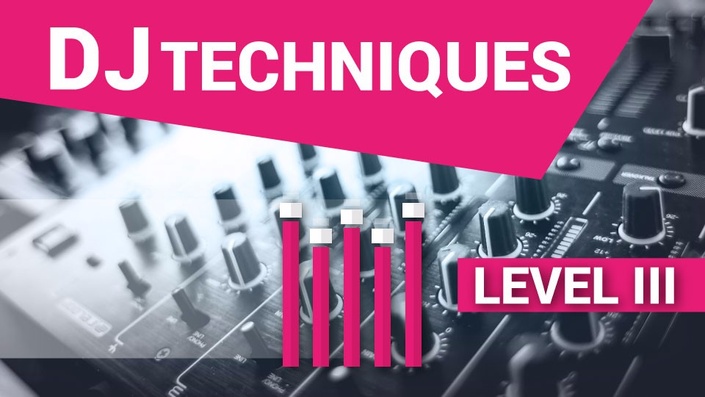 DJ Techniques III
Learn more intermediate and advanced level DJing techniques, including mixing tips and exercises, creating DJ mixes, and applying effects in your mix,
Course Overview
Reaching the top of your game as a DJ will take time, effort, and understanding—but that doesn't mean that it isn't possible for you. At DJ Courses Online, we are dedicated to providing every DJ with the most in-depth and up-to-date understanding of advanced DJ techniques possible. Through our online video courses, countless students have been able to learn the complex skills they need to make the best DJ programs work for them, whether they were focusing on music production, live DJing, or both.
Our DJ Techniques III course focuses on a broad range of intermediate and advanced techniques. Even though learning these skills might take up a large chunk of your time and attention, you can learn at your own pace because all of our courses are formatted as online videos. Not all DJ courses offer the flexibility that students need to thrive, but here at DJ Courses Online, we have your back. With the combination of our stellar customer service and access to the knowledge shared by the best in the field, you'll have what it takes to rise to the top in no time.
Key course topics in DJ Techniques III include:
How to use the drop cut, stop and drop, backspin, and power down techniques in mixing
By learning these concepts, you can expand your skill set and have access to the tools and capabilities consistently used by the world's top DJs. No matter what your goals are or what genre you work in, our video courses can expand your knowledge and provide you with these techniques for your immediate use.
How to organize your DJ tracks library for the most efficient workflow, as well as having access to the most relevant information
Having a large library of tracks is only one part of DJ success. You'll also have to know how to use them to the best of your ability. Organizing and understanding your tracks will help you quickly choose what's right in your live performances. If you are looking to gain the advanced DJ techniques needed to become one of the best, it's important to know that you don't need to figure it all out on your own.
Analyze tracks to determine which songs work best together and the optimal timing for mixing in and out
Not every track will work well together. Knowing how to quickly and completely analyze a track will help you mix in and out successfully and smoothly. This knowledge can be applied to any genre and style that you prefer.
Learn new scratching techniques and other skills for better improvisation
The more techniques you innately know, the better you can improvise. With our help, you will not only learn more skills, but be able to memorize these techniques in order to use them at any given moment during live performances.
Use your know-how to create your own voice and character within a performance
Successful DJs become known and recognized far and wide because they do not sound like anyone else. Our tutorials will give you access to a wide variety of skills and in-depth knowledge of numerous programs so you can create your own sound and character without limitations.
Apply Traktor and Serato Scratch Live built-in effects during mixes and live performances
World class DJs know the ins and outs of the best programs, including Traktor and Serato Scratch Live. By having a deep understanding of how to create unique sounds that reflect your own style, as well as how to make an array of music tracks work together seamlessly, you can use these programs to their full extent. Through our DJ Techniques III course, you can develop many of these advanced DJ mixing techniques.
Sample clips from track in Traktor or Serato Scratch Live for DJ mixes
Sampling plays a huge part in many DJs mixes. Whether you prefer Serato or Traktor, or use them both, we can help you take complete control of musical tracks for the sake of creating new and inventive pieces without being limited by incomplete knowledge of software programs.
Understand in-depth techniques for Serato Scratch Live and Traktor
Serato Scratch Live and Traktor have countless uses, including exporting, recording preferences, and more. We make sure that all of our videos stay up to date by constantly keeping our eyes and ears open for any and all changes made to DJing programs. You can rest assured that the advanced DJ techniques you will learn with our online courses reflect the latest in cutting-edge software.