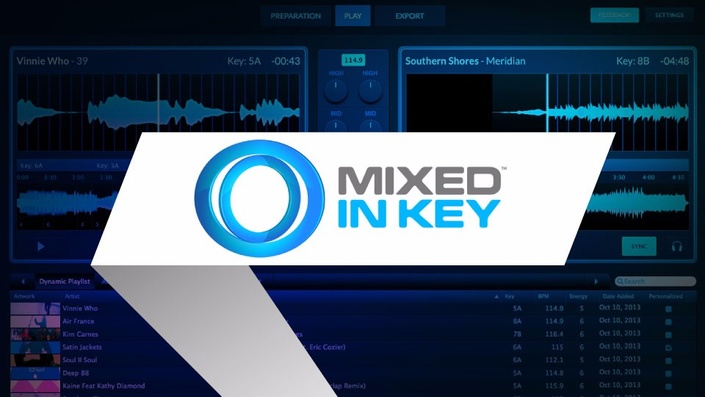 Mixed In Key
Learn about the harmonic mixing software Mixed In Key so you can analyze all your music by key signature and beats-per-minute to prepare your tracks for mixing.
Course Overview
Every DJ has his or her own unique style and signature sounds. For many, Mixed In Key is the go-to software for analyzing music and creating compatible harmonies and rhythms. If you are interested in learning how to use Mixed In Key, or if you just need to better understand this particular mixing software, the Mixed in Key DJ courses offered by DJ Courses Online are just what the doctor ordered.
Our Mixed In Key DJ software tutorials are designed to meet the experience levels of each individual viewer, rather than offering a static learning field. New users will be able to start from the ground up, learning the basics and learning what a vital role Mixed In Key can play in their careers.
What Our Mixed in Key DJ Courses Offer:
Successful use of Mixed In Key without any prior musical knowledge.
Our Mixed In Key DJ tutorials are created so that viewers everywhere can understand the program and make it part of their technique. Since the software helps users to identify musical signatures and beats per minute, you do not need any prior musical knowledge. Through tutorials and use of the program, you'll be sure to expand your knowledge. Additionally, we are dedicated to providing top of the line customer service so that you never have to do it alone. You may be learning new DJ skills from home, but you have access to our experienced help at any time.
Creating a clean mix using two compatible tracks.
Mixing tracks is a fundamental part of DJing and Mixed in Key can play a vital role in the process. Our tutorials will teach you how to find compatible tracks, identify the optimal time for mixing, and stylishly blend them for exciting and memorable music.
Identifying the key signatures of any music track.
By using Mixed in Key to identify the key signatures of a track, you can have the knowledge needed to use the piece however you like. By fully understanding how the software works, you can apply this use to any track and genre so you can use it to your full advantage and with your unique sound.
Identifying the beats-per-minute (BPM) of any music track.
By using Mixed In Key, DJs are able to analyze their music when it comes to beats-per-minute, key signatures, harmonies, melodies, and more. By having this well-rounded understanding, you can mix tracks that are harmonically and rhythmically compatible to create more innately pleasing songs. By using this software, a DJ will also be able to automate many of the technical tasks that once had to be performed manually, making their lives easier.
Automating technical preparatory tracks through proper use of the software.
Using Mixed In Key to the full extent of its capabilities will get rid of the many time consuming and tedious aspects of track preparation, but it requires a deep understanding of the software. The online courses offered by DJ Courses Online can help you find success, but it is up to you when it comes to how far you want our courses to take you. by automating technical preparation, you can focus on the creative side of DJing.
Tailoring Mixed In Key DJ software to your unique needs, style, and genre.
Our vast library of DJ lessons is available to anyone who enrolls in our courses. By taking you step by step through both fundamental and advanced techniques, we'll put the mastering of this complex yet intuitive program within your reach. No matter your skill level or experience, we are ready and able to help you achieve great things.