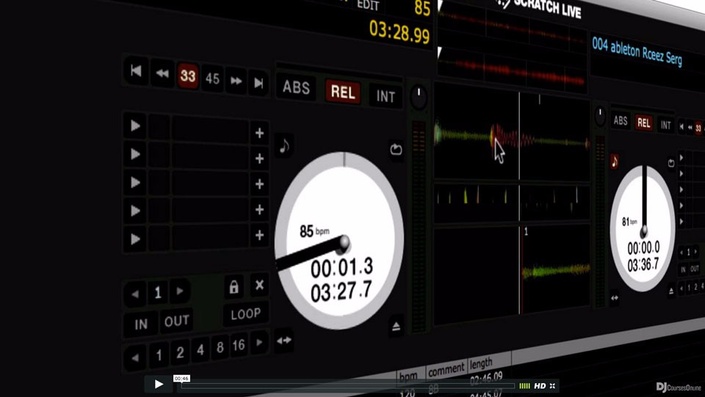 Serato Scratch Live
This DJ course takes you step-by-step through all the core functionality, key preferences, and features of the Serato Scratch Live software application.
Course Overview
Over the course of ten years, Serato Scratch Live has become one of the most popular DJ programs in the industry. It's a comprehensive piece of software, and to newcomers, it can look overwhelming. Not to worry, though: Serato Scratch Live has plenty of useful features to command. Our Serato Scratch Live tutorial will map out your path through the program, while also giving you the skills required to create fresh new performances for your set.
Key course topics Serato Scratch Live include:
Introduction to digital DJ software
Transitioning from analog to digital isn't easy. The art of DJing has moved from two turntables to a full-fledged computer program that takes the guesswork out of your mixing. Still, Serato Scratch Live is a complex program with tons of features to use and tricks to learn, much more than your typical analog DJ setup. Our detailed Serato Scratch Live tutorial kicks off with how to use digital DJ software and what advantages the digital age has over the classic analog devices.
Navigating the Serato Scratch Live dashboard and each of its individual components
Scratch Live has been used in the DJ industry for years, and though Serato DJ is the more prominent powerhouse among Serato's products, Scratch Live is constantly being updated and supported by Serato, mixers, and fans alike. Offering all of the necessities for a killer mix, Scratch Live is a powerful piece of DJ software. Our Serato Scratch Live video trims the fat and focuses on the most important features of Scratch Live. It may look super-technical, but after watching the videos, you'll become a Scratch Live master in no time!
In-depth explanations of essential Serato Scratch Live settings and preferences
From easy looping to in-depth NoiseMapping, Serato Scratch Live has plenty of bells and whistles to use when manning the station. Use Scratch Live to check volume levels, organize cue points, and even use samples. This course investigates essential features that all DJs should understand, as well as how Serato Scratch Live organizes them in an easy-to-navigate interface. Learn why Serato Scratch Live has been such a prominent program for years!
How to use the unique features only available in Serato Scratch Live
Serato Scratch Live is a slimmed-down, straight-ahead DJ software, but that doesn't mean it doesn't have any tricks up its sleeve. Serato updates Scratch Live software frequently, so use this course to stay on top of what features are the most important to your mix. Scratch Live's unique features, like custom-built add-ons, let you take digital DJing beyond the limits. Our Serato Scratch Live video details what features are the best to master.
Connecting Serato Scratch Live with other hardware, like external controllers, midi devices and control records
Serato Scratch Live supports various mixers, interfaces and accessories, but hooking the devices up can be tough. Between compatibility and getting the program to read the machine, there's bound to be some frustration. No sweat! This course goes deep into how Scratch Live reads the different devices and how to keep track of their readings with the dashboard. Find out which device is best with Scratch Live without any of the trial-and-error.